---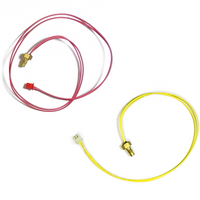 **Note: If your unit currently has no thermistor connected and is being used, understand that this is not optimal for your unit, and one should use the hot water sparingly. Once your new set arrives, you can replace the thermistors and use your unit as needed.  

Also, if your unit has a black and red thermistor (newer model) this is not the correct part, Click on the link above or search THRM S103 for the correct set of thermistors. 

If your unit has double red plugs, red on the inlet and on the outlet, these are for older units and unfortunately are no longer being manufactured. 
Description: Thermistors w/ O-ring
Model #: THRM QC MEDLRG
Compatible With: models 18kW, 24kW & 27kW 
Description: Thermistor w/O-ring
Model #: THRM SML

Compatible With: models 8kW, 11kW, & 13kW
Shipping Details: ** Any parts sold after 3pm EST M-F may be shipped next day.