---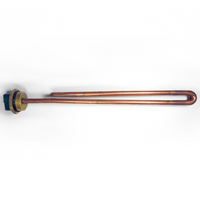 Sale
Ecosmart 5.5Kw 220v Heating Element
HE55220 is the replacement heating element for tankless water heaters with 5.5 kW at 220V (6 kW at 240V) for Ecosmart POU 6, ECO 11. Also compatible with other manufacturers' heating elements with the same specs.
Other Compatible Units:
≈ Eemax HA013240, HA011240, PR013240, PR011240, EEM24013, EEM24011, EEM24006
≈ Rheem RTEX-13, RTEX-11, RTEX-13, RETEX-11, RTEX-06, RETEX-06
≈ Richmond RMTEX-06

All the above listed 11kW heaters use two elements.

Specifications
• O-Ring included
• Voltage rating: 220 to 240 Volts
• Power rating is 5500 Watts at 220V
• Plug type: Screw-in
• Sheath material: Copper
• Length of the copper anode element material: : 8.2 inches (NOT including the brass threads)
• Length from end of brass plug with threads to end of element "U" turn: 9.5 inches (including the brass threads)
• Weight of item not including packaging: 11 ounces