---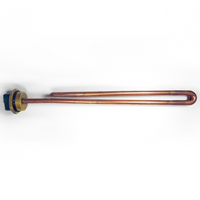 Sale
Ecosmart 6Kw 208v Heating Element
HE60208 is the replacement Heating element 8kW/240V/33 amps (6 kW/208V/28.8 amps) for Ecosmart ECO8 tankless water heaters. Also compatible with other manufacturers' heating elements with the same specs.
Other Compatible Units:
≈ Eemax HA08240, EEM24008, PR08240
≈ Rheem RTEX-8, RETEX-8 RTEX13, RETEX13
≈ Richmond RMTEX-08

All the above listed 11kW heaters use two elements.
Specifications
• O-Ring included
• Voltage rating: 208 to 240 Volts
• Power rating is 8kW/240V/33 amps or 6 kW/208V/28.8 amps
• Plug type: Screw-in
• Sheath material: Copper
• Length of the copper anode element material: : 9 inches (NOT including the brass threads)
• Length from end of brass plug with threads to end of element "U" turn: 9.5 inches (including the brass threads)
• Weight of item not including packaging: 11 ounces